In 2018, we tested the tools that help organizers stay in touch with members after an event. We set out to understand how organizers communicate after an event and which tools have the greatest impact on member engagement.
One takeaway from our research was that the "Stay in touch" emails that organizers and members send to say "good to see you" have been declining in use over the past year. Based on these results, we've made the decision to stop sending "Stay in touch" emails.
In 2019, we're focusing on tools that help groups communicate. Here are a few ways organizers can keep up the conversation between events.
Three impactful ways to communicate after an event
1. Leave a comment on the event page
The event page is a perfect place to engage with active members in your group because attendees are notified about event comments by push notification or email.
Leave a comment on the event page while the event is still fresh in mind. We recommend sharing a "thank you" to everyone who attended, a short recap of the event, and even adding a link to your next scheduled event.
2. View your event feedback
In a recent survey to organizers, you told us that getting feedback from members was one of your biggest challenges. Now, we're collecting feedback directly from members and sharing it with organizers and their leadership teams.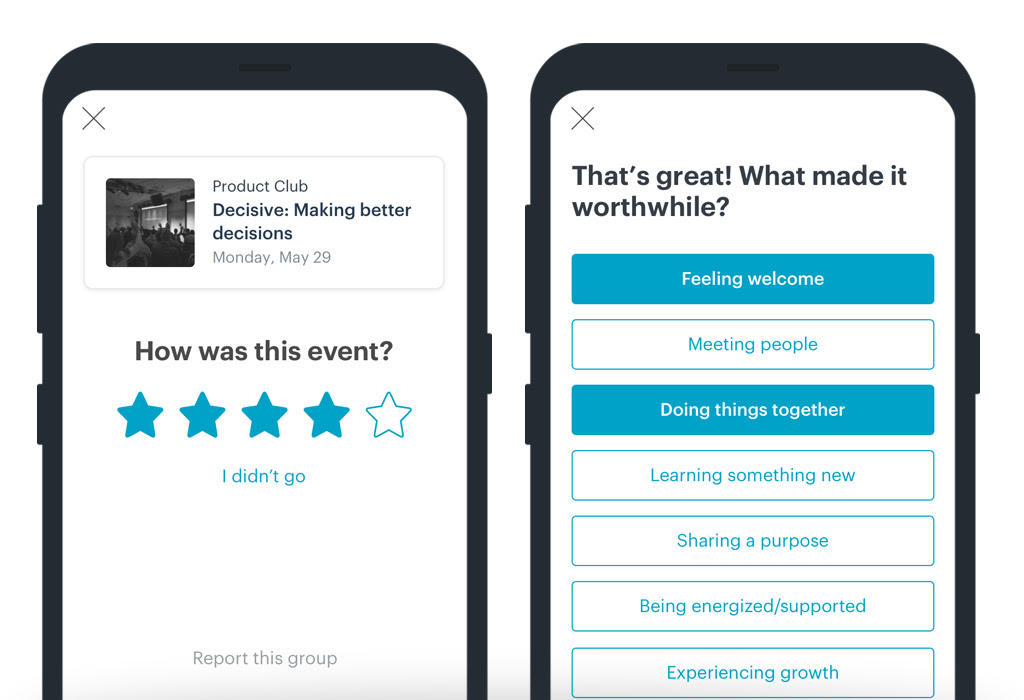 Organizers and event hosts can view feedback from members about recent events including a star rating and a short response based on their rating.
3. Share an update in a discussion
Even if it's a short message, starting a discussion can make an impact. Based on our research, about 60% of groups used the discussion feature on the group homepage to communicate last year. That's about one million members using the tool to communicate.
Groups that use the discussion tool host almost three times as many events with at least 4 RSVPs on average. That's one and a half times more RSVPs than groups that don't use the discussions tool.